Compact Economy Cars
GALM Rent a car Bucharest - Romania
- Citroen C3 -


Features:
- manual transmission
- front power windows
- 4 airbags; ABS
- AM/FM Stereo RadioCD
- air conditioning
- alarm
- unleaded gasoline

Capacity:
- 5 people; 5 doors
- 3 luggage

€ per day
1 - 3 days
4 - 7 days
8 - 14 days
over 14 days
weekend

Citroen C3

36*
33*
30*
28*
105*

* The prices are in EURO / day including VAT (19%)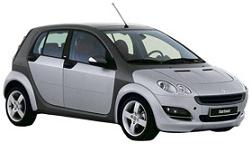 Features:
- manual transmission
- front power windows
- 6 airbags; ABS
- AM/FM Stereo CD Player
- air conditioning
- alarm


Capacity:
- 5 people; 5 doors
- 2 luggage
€ per day
1 - 3 days
4 - 7 days
8 - 14 days
over 14 days
weekend

Smart Four Four

49*
43*
38*
35*
125*
* The prices are in EURO / day including VAT (19%)
Full Size Cars
Features:
- manual transmission
- front power windows
- front side airbag
- AM/FM Stereo Radio cassette
- air conditioning
- alarm
- power assist steering

Capacity:
- 5 people; 5 doors
- 4 luggage
€ per day
1 - 3 days
4 - 7 days
8 - 14 days
over 14 days
weekend

Renault Clio

42*
34*
30*
27*
110*
* The prices are in EURO / day including VAT (19%)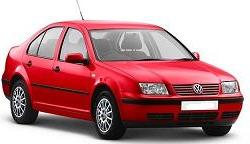 Features:
- manual transmission
- power windows; power doors
- 4 airbags; ABS
- AM/FM Stereo RadioCD
- air conditioning
- alarm
- diesel

Capacity:
- 5 people; 4 doors
- 4 luggage
€ per day
1 - 3 days
4 - 7 days
8 - 14 days
over 14 days
weekend

Volkswagen Bora

49*
43*
38*
35*
125*
* The prices are in EURO / day including VAT (19%)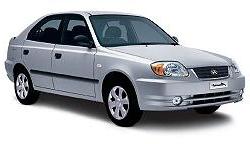 Features:
- manual transmission
- power windows; power doors
- airbags; ABS
- AM/FM Stereo RadioCD
- air conditioning
- alarm
- diesel

Capacity:
- 5 people; 5 doors
- 4 luggage
€ per day
1 - 3 days
4 - 7 days
8 - 14 days
over 14 days
weekend

Hyundai Accent

39*
38*
35*
32*
115*
* The prices are in EURO / day including VAT (19%)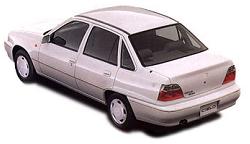 Features:
- manual transmission
- power windows
- front side airbag
- AM/FM Stereo Radio cassette
- air conditioning
- alarm

Capacity:
- 5 people; 5 doors
- 5 luggage
€ per day
1 - 3 days
4 - 7 days
8 - 14 days
over 14 days
weekend

Daewoo Cielo

36*
29*
25*
24*
95*
* The prices are in EURO / day including VAT (19%)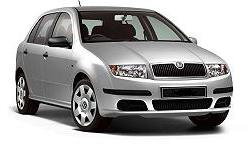 Features:
- manual transmission
- front power windows
- 6 airbags; ABS
- AM/FM Stereo CD Player
- air conditioning
- alarm


Capacity:
- 5 people; 5 doors
- 5 luggage
€ per day
1 - 3 days
4 - 7 days
8 - 14 days
over 14 days
weekend

Skoda Fabia Sedan

42*
34*
30*
27*
110*
* The prices are in EURO / day including VAT (19%)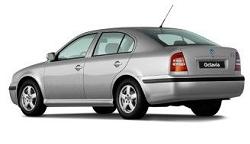 Features:
- manual transmission
- power windows and doors
- 4 airbags
- AM/FM Stereo RadioCD
- air conditioning
- alarm
- diesel

Capacity:
- 5 people; 5 doors
- 5-6 luggage
€ per day
1 - 3 days
4 - 7 days
8 - 14 days
over 14 days
weekend

Skoda Octavia

49*
43*
38*
35*
125*
* The prices are in EURO / day including VAT (19%)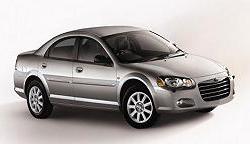 Features:
- manual transmission
- power windows; power doors
- 4 airbags; ASR; ABS
- AM/FM Stereo Radio cassette
- automatic air conditioning
- alarm
- unleaded gasoline

Capacity:
- 5 people; 5 doors
- 5 luggage
€ per day
1 - 3 days
4 - 7 days
8 - 14 days
over 14 days
weekend

Chrysler Sebring Sedan

60*
55*
50*
45*
150*
* The prices are in EURO / day including VAT (19%)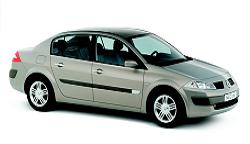 Features:
- manual transmission
- front power windows
- 6 airbags; ABS
- AM/FM Stereo CD Player
- air conditioning
- alarm


Capacity:
- 5 people; 5 doors
- 5 luggage
€ per day
1 - 3 days
4 - 7 days
8 - 14 days
over 14 days
weekend

Megane Estate

49*
45*
40*
37*
135*
* The prices are in EURO / day including VAT (19%)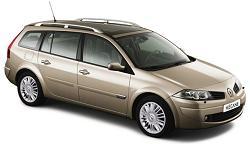 Features:
- manual transmission
- front power windows
- 6 airbags; ABS
- AM/FM Stereo CD Player
- air conditioning
- alarm


Capacity:
- 5 people; 5 doors
- 6 luggage
€ per day
1 - 3 days
4 - 7 days
8 - 14 days
over 14 days
weekend

Megane Estate

49*
45*
40*
37*
135*
* The prices are in EURO / day including VAT (19%)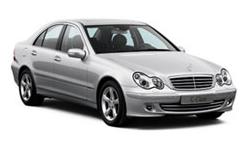 Features:
- manual transmission
- front power windows
- 6 airbags; ABS
- AM/FM Stereo CD Player
- air conditioning
- alarm


Capacity:
- 5 people; 5 doors
- 5 luggage
€ per day
1 - 3 days
4 - 7 days
8 - 14 days
over 14 days
weekend

Mercedes C200 CDI

120*
110*
100*
90*
300*
* The prices are in EURO / day including VAT (19%)

Additional Services
All cars rented in airport are subject to surcharge of € 15.00 (incl. VAT) per rental;
For cars delivered outside Bucharest the transfer rate will be € 0,2 / km (incl. VAT).

Car rental with driver
GALM Rent a car Bucharest - Romania charges € 35/day (excl. VAT) for rent a car with English speaking driver in the limit of 8 hours driving/day and 200 km.
Outside Bucharest the renter must provide meals and accommodation for the driver.